Doug Whitty (2017-2018)
Grape Growers of Ontario and Farm Credit Canada announced that Doug Whitty of Whitty Farms and 13th Street Winery in St. Catharines had been chosen as the 2017 Grape King.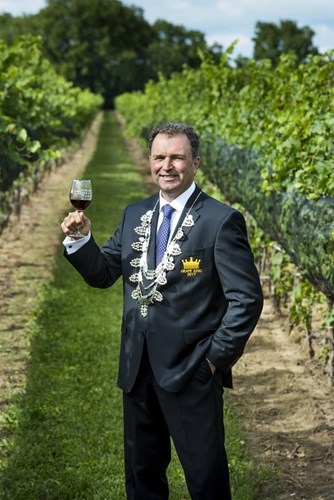 The King wears a chain that carries the names of all of the Kings that came before including Doug's uncle, 1983 Grape King Rodger Whitty.
Whitty Farms is a family affair, established by his grandfather in 1908, followed by his parents Joseph and Leith Whitty, and now Doug, his wife and business partner Karen, and sons Luke, Benjamin and Thomas.
Whitty Farms is a diversified agricultural operation including 55 acres of vinifera wine grapes and has expanded to 13th Street Winery and 13th Street Bakery, all located on Fourth Avenue. The Whitty's participate extensively in farm research, and host community activities such as Grapes of Wrath Mud Run in support of Canadian Cancer Society Wheels of Hope program.
"I believe that a key component to our continued success as an industry is related directly to our ability to work creatively together with all our partners so that enjoyment of local wine and food experiences are more fully recognized as an important part of Canadian culture," says Doug Whitty. "I am pleased yet humbled by this nomination. I have learned a great deal from other grape growers. It will be a great honour and privilege to represent them as Grape King this year."
Doug Whitty was officially installed as the 62nd Grape King on Wednesday, September 13th, 2017 at 3:00 p.m. at 13th Street Winery.