Jamie Slingerland (2015-2016)
Jamie grew up on a Niagara-on-the-Lake grape and tender fruit farm coming from a long line of fruit farmers. In fact, the Slingerland family has farmed in NOTL since the 1780s. As a result, Jamie understands firsthand that great wine starts in the vineyard.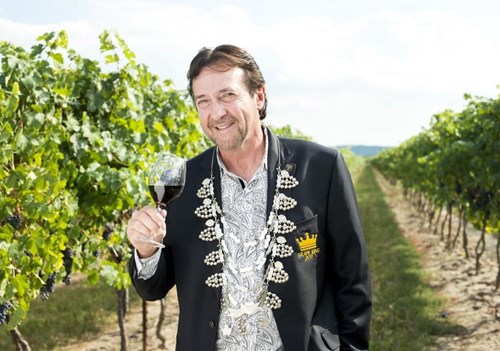 Jamie's marriage to Connie Pillitteri, daughter of Pillitteri Estates founders Gary and Lena Pillitteri, was a winemaking match made in heaven. Today, the award-winning vineyards of Pillitteri Estates managed by Slingerland, account for Canada's largest estate winery production of Icewine. The business is a true family affair. Working side-by-side with Gary and Lena are Jamie, Connie (CFO), son Richard and son-in-law Jared Goerz (both on the management team). Jamie's daughter Rachel is a lawyer. Jamie's Grape King honor is especially notable, considering that his father-in-law Gary Pillitteri was Grape King in 1981.
After graduating from the University of Guelph, Jamie worked as an inspector for the Ontario Ministry of Agriculture, Food and Rural Affairs; and later served on NOTL's Court of Revision and Committee of Adjustment. His long history of service includes serving as inaugural chair of NOTL's Agricultural subcommittee, which established a comprehensive zoning bylaw and an irrigation system for local wineries. He also was instrumental in transitioning the many individual winery signs that used to dot the Queen Elizabeth Way to today's consistent and recognizable "Wineries of NOTL" signage.
Among Jamie's other honors was the 2012 Premier's Award for Agri-Food Innovation Excellence, which he received for introducing the three Verona grape varieties to Canada, and shortening the period to establish new varieties and clones.