Jamie Quai (2016-2017)
The Quai family is now in its third generation of grape growing in Elgin County. Nestled on the eastern edge of the Lake Erie North Shore appellation, and bordering the emerging South Coast wine region; the Quai family have been growing grapes since 1972. The Quai's currently grow: Riesling, Chardonnay, Pinot Gris, Merlot, Cabernet Franc, Baco Noir, Marechal Foch, Vidal, Seyval Blanc, Sevye Villard, Aurore, Concord, Niagara, New York Muscat, and Ehrenfelser.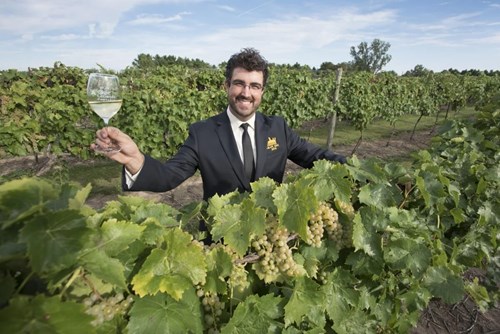 In 1990, Jamie's parents Roberto and Lisa Quai opened Quai Du Vin Estate Winery. What started as the one of earliest winery licences issued in the modern Ontario wine industry, has evolved into an operation that sells 2,500 cases per year, sold exclusively via cellar door. Over the last decade Jamie has worked in almost every facet of Quai Du Vin. His current titles include Co-Proprietor, Vigneron, and Winemaker.
Jamie attended Brock University studying Oenology and Viticulture at the Cool Climate Oenology and Viticulture Institute. During his time as a student, Jamie worked three commercial harvests in the Niagara Peninsula. His experience includes time in both craft wineries and larger scale operations. Jamie remained actively involved in CCOVI as the Instructor for OEVI 3P21: Wine Processing and Equipment from 2007-2016.
Jamie is happily married to Kim, an elementary school teacher with the London Waldorf School, and together they are raising their two sons: Gavin and Nicklaas