"I'm very optimistic, yes, because it's a very simple thing. For instance, we are growing Cabernet Franc, and Ontario has done very well with Cabernet Franc. Cabernet Franc is one of the biggest grape varieties in Bordeaux. We never tried to copy Bordeaux reds, but we found our own style, which is the most important thing, that the region has to be identified with their own style. Otherwise, you are just a copycat."  - Albrecht Seeger
The final two years of the 1990's, the 51st and 52nd years of the marketing board's history, saw the investments made earlier in the decade begin to pay off, to the relief of growers and producers across the region.
In addition, fluctuations in the weather continued to prove unpredictable, with 1998 being the warmest and driest year on record, to date. Thankfully, because there had been sufficient snow melt and rainfall early in the year, this hot dry weather resulted in a large, healthy harvest, with sales to wineries and juice processors exceeding 44,000 tonnes. Sales to wineries accounted for 32,650 of that total.
The decade-long effort to shift the harvest to higher quality grapes was showing positive results, with Viniferas leading the way with a harvest of 14,000 tonnes, an increase of 4,000 tonnes over the previous year, and more than double the years preceding that. Farm gate prices, reached $40.9 million, easily setting a new revenue record for growers. This effort demanded the planting of new, young Vinifera vines earlier in the decade and at considerable investment risk to growers. To see this gamble pay off, was both a relief and an encouragement to growers and processors alike.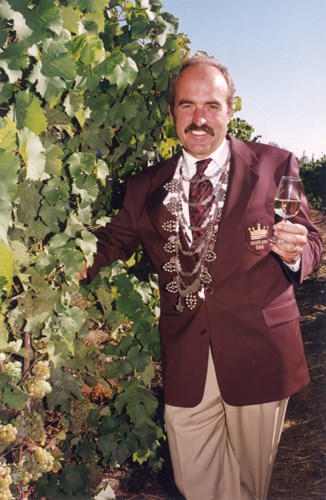 Continuing the tradition of honouring a grower each year for viticulture excellence, Albrecht Seeger was chosen as 1998 Grape King.
"So, a guy like Seeger, who's German, I sold him my vineyard where I planted those 30,000 vines to finance the winery. And because he was working for me and he kept saying, "Donald, my dad and I would really like to farm, and you got this vineyard right behind our house." I'm like, "No, I'm not interested in selling," until one day I woke up and thought, I don't need to get up every morning at sunrise and do the vineyard and then go into the winery. So, they bought it. Now they have 200 and some acres. I sold them 60 acres, 30 planted. And they are excellent growers." -Donald Ziraldo
For the rapidly expanding Icewine harvest the conditions could not have been better, with the selected grapes being of the highest quality, and with the weather obliging by providing an early cold spell before Christmas. The result was a strong, high quality harvest completed by the new year. Icewine grapes are yet another example of a sizeable gamble taken by growers, with grapes harvested after a sustained -8o C; this harvest was further relief to the industry. 
These improvements in grape quality and harvest size continued in 1999, with the Vinifera harvest leading the way, coming in at 18,000 tonnes – fully 300% larger than the 1995 harvest just four years earlier. 
Niagara grapes and wines were receiving increased respect around the world, with increased grape sales to American wineries. 
"During my tenure the opportunity in the industry was Icewine, which came to be very, very popular. Really, when you stop and think about it, the Icewine business certainly generated a lot of enthusiasm, and also a lot of money for the growers to reinvest. That really did help." – John Neufeld
In addition, 1,000 new acres of wine grapes, planted several years earlier and at considerable risk to the growers, contributed significantly to this harvest. 1999 also benefited from 25% more rain that the previous year – a second year as dry as 1998 would have been devastating to growers and wineries alike. 
These increases in production required corresponding increases in sales. Here the marketing board's activity was key. Board chairman John Neufeld issued a challenge to Ontario Premier, Mike Harris, to alter existing provincial regulations to allow wineries to make direct deliveries to their licensees. Premier Harris agreed, removing yet another of the outdated restrictions on alcohol sales that burdened the industry.
The Province created the Ontario Wine Strategy Steering Committee, a tripartite group of government, growers and wineries. This group included Andy Brandt, chairman of the Liquor Control Board of Ontario (LCBO). In combination with a second high level committee chaired directly by Brandt – the Project 50 Group – the result was a targeted effort to increase sales of Niagara wines in Ontario by 50% within five years. 
As part of this effort, Grape Growers chairman John Neufeld made solid inroads with the LCBO's employee union, with the result that he was afforded space to educate and promote Ontario wines in the union's newsletter. Adding to this development was the agreement that the Union would distribute the Grape Growers' own publication, The Ontario Grape Growers, directly to each of its 4,500 employees, resulting in a targeted program to introduce and educate the front line retail staff of the quality and opportunities of promoting and selling Ontario wines. 
"But Donald Ziraldo – an energetic salesman – found he couldn't sell his wines in France without a formal government appellation. And of course, that caused him to go to our government and say, "What the hell?" Like, "You got to fix this." And it turned out, the only way to fix it was to create an Appellation system so that they would be obliged to accept our products. And that led to the VQA.
The goal was to create an Appellation system that would allow us to differentiate the genuine article of 100% Ontario-grown wine from all the other stuff, which you don't know what's in the bottle, it's a blend of stuff from anywhere, planet earth, plus all kinds of winemaking shenanigans like sugar, you name it, every chemical in the book to turn a sow's ear into a silver purse."  - Len Pennachetti
The 1990's came to a close with positive indication that investments and risks undertaken earlier in the decade were beginning to pay off handsomely, with strong inroads in the effort to increase Ontario wine sales by 50% by the year 2004.