The year 2016 is remembered for both change and consolidation. The most obvious example of each of these characteristics was the departure of the GGO's Chair, Bill George and the arrival of new Chair, Matthias Oppenlaender. 
Matthias was born in Germany where he studied agriculture and viticulture before immigrating to Canada in 1984. Matthias, his wife Monica and their five children live in Niagara-on-the-Lake and own and operate Country Tyme Vineyards and Huebel Grape Estates, farming 800 acres of certified sustainable vineyards. In 2006 Matthias was elected Grape King by his fellow grape growers, and the following year was elected to the Grape Growers of Ontario's (GGO) Growers' Committee and to the Board of Directors. In 2009 Matthias was elected Vice Chair of the Board and he held this position until he was elected Chair in 2016. In addition to the GGO Board of Directors, Matthias serves as the Chair of Ontario Grape and Wine Research Inc. (OGWRI), and Treasurer of the Canadian Grapevine Certification Network.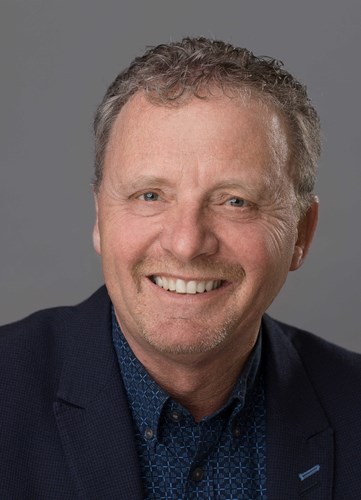 Matthias Oppenlaender was elected Chair of the Board of Grape Growers of Ontario.
"Bill's nine years as Board Chair will be remembered as a time of renewal for our industry, and his diplomacy coupled with his belief that partnerships build an industry will remain his legacy. In accepting the role as Chair my focus has been to continue to build on the strength of this foundation, and to grow Ontario's grape and wine industry for the benefit of all of our members."   -Matthias Oppenlaender
Despite summer and fall drought conditions, the 2015 harvest was again large and of exceptional grape quality, with a total yield of 70,851 tonnes that reached the second highest farm gate value in GGO history (after 2013) of $95.3 million. This was a relief for much of the industry after concerns of vine damage from back-to-back harsh winters. The result was another stellar vintage.
The Icewine portion of the harvest was also large and lucrative with 3,835 tonnes of grapes that produced in excess of 600,000 litres. After the unseasonably warm growing season temperatures, the early winter was welcomed, and dipped below -8°C in December for an early Icewine harvest.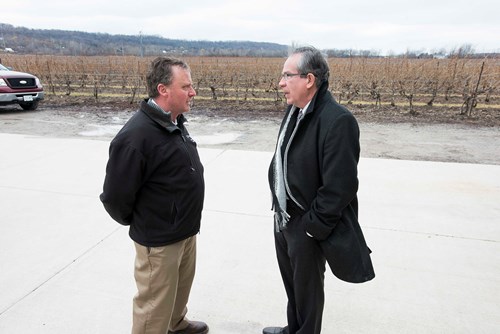 Chair Matthias Oppenlaender explains Icewine to Honourable Jeff Leal, Minister of Agriculture, Food and Rural Affairs
After several years of two-year price agreements, negotiations with by the Wine Council of Ontario, and Winery & Alliance of Ontario produced a one-year pricing agreement that covered most varieties. It included an overall 2% price increase per tonne including juice grapes, as well as price increases for plateau red and white varieties. The agreement also introduced new grape classes for Frontenac and Marquette, Muscat Ottonel and Viognier varieties. 
 Ontario Grape and Wine Research Inc., created and supported by the GGO, WCO and WGAO, continued to provide industry-led research on issues affecting Ontario vineyards. OGWRI delivered the industry research and development portion of the Marketing and Vineyard Improvement Program (MVIP). The GGO was instrumental in the decision to provide a continuation of the MVIP program for the final three years of the Wine and Grape Strategy.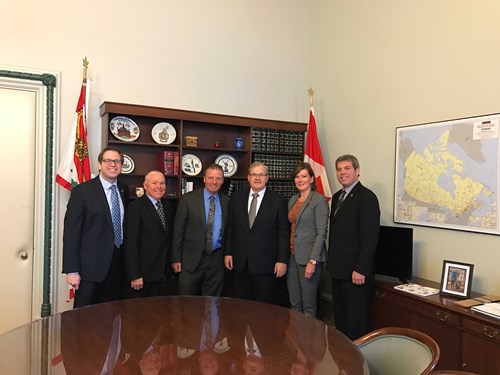 GGO continues its relationship with federal parliamentarians Chris Bittle, MP St. Catharines; Bill Schenck, Vice Chair GGO; Matthias Oppenlaender, Chair GGO; Minister of Agriculture and Agri-Food Canada Lawrence MacAulay; Debbie Zimmerman GGO, CEO; and Vance Badawey MP Niagara Centre
There was significant change in the wine retail market that followed recommendations of the Premier's Advisory Council. Specifically, 67 Ontario grocery stores began to sell domestic and imported wine with up to 300 stores to be authorized over time.  This included "restricted stores" that were required, for the first three years, to sell only cider and wine that was produced by small wineries using grapes from a single country, or wineries that at any time during the three-year period is a mid-sized winery.  
Grocery stores that are not "restricted" stores are required to have at least 10% of wine on display to be from small wineries and at least 50% must be produced using grapes from a single country and be quality assurance wine, produced by a small winery or from a country producing less than 150 million litres of wine annually from grapes grown in that country.
These restrictions will be changed due to an Australia WTO challenge to come: "Restricted" grocery stores were to be eliminated by August 31, 2020 and by the end of year 2 of the agreement (2022) dedicated shelf space was to be reduced from 50% to 45% and by the end of year 3 (2023) of the agreement, further reduced this number to 40%.
In addition, "Wine Boutiques" were permitted.  These are off-site winery retail store licensees with a supplementary wine authorization to move inside the grocery store and use a shared check out. There were new restrictions placed on Wine Boutiques in an attempt to level the playing field for those wineries that did not have off-site store licences including minimum quotas for wine manufactured by other wineries, VQA wine, and wine manufactured by a small winery.  A small winery was defined as worldwide sales not exceeding 200,000 litres of wine per year; this was increased to 375,000 litres in the WTO challenge to come.