Brian Schmidt
Whether spending time in the vineyards getting to know his vines, interacting with consumers via social media, working on producing over 30 vintages, or travelling across the globe promoting both Ontario and Canadian wines, Brian Schmidt is a great activist for the Ontario wine industry.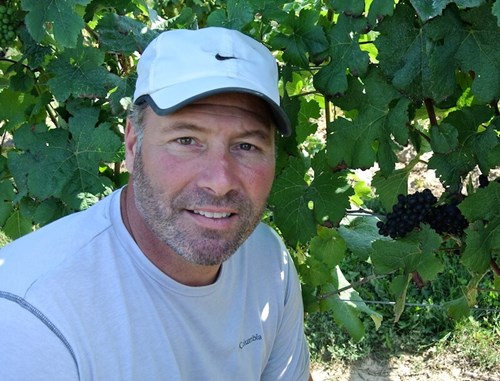 Born in British Columbia to a family who were pioneers in the establishment of the Okanagan Valley wine region, you could say that wine flowed in Brian's blood. It wasn't always this way though. While working for his family's winery in B.C., Brian was unsure about a career in winemaking and instead became a commercial scuba diver on the west coast.
In 1986, his family decided to make the 3000 mile move to Ontario. Brother Allan Schmidt accepted a position as winemaker with Vineland Estates Winery in 1988. Brian wasn't planning on joining the family across country until a 2-week vacation in 1991 to visit his brother and help with the grape harvest changed his mind. Brain says, "It turned into a 25-year vacation of doing what I love."
Taking over the title of winemaker at Vineland Estates in 1993, Brian is a true believer that wine happens in the vineyard. From bud break on the vines to harvest time, Brian is a part of the vineyard crew, tending to and nurturing vines so that the best possible fruit comes from each block. As much as he tries to plan ahead and work with the conditions of the day, he must react to what Mother Nature throws at him.  
From September to December, Brian can be found on the crush pad of Vineland Estates. His commitment to excellent wines goes as far as hand sorting the grapes and working with his crew to ensure that nothing other than the very best grapes are made into wine. Spending time within the cellars is equally as important; Brian says, "My job is to render the soul of the vineyard into liquid music."
In the time between growing seasons when Brian is not blending wines in the cellars, he is often visiting other countries promoting Canadian wines to share the unique stories Ontario wines have to tell. Brian notes that Ontario table wines in addition to our icewines are becoming recognized internationally. Brian also spends time inspiring those close to home with vintage tastings to show vineyard crews and retail staff the differences in a hot vs. cold, or a wet vs. dry summer, and the effect that weather has on the fruit.
Another way that Brian inspires people to get in touch with Ontario wines is by sharing his curiosity and passion of wine growing via social media. He appeals to a more visual and emotional side of consumers by posting his daily views and things he finds interesting around Vineland Estates.