Kevin Watson
Kevin Watson, son of 1989's Grape King, John Watson, did his late father proud when he became the second grower in the family to be honoured with the prestigious title. Bestowed by the province's grape growers since 1956, the title of Grape King recognizes a specialist whose attention to detail and passion raise the bar in area vineyards. Since then, Watson has worked hard to uphold the Watson family's reputation for excellence.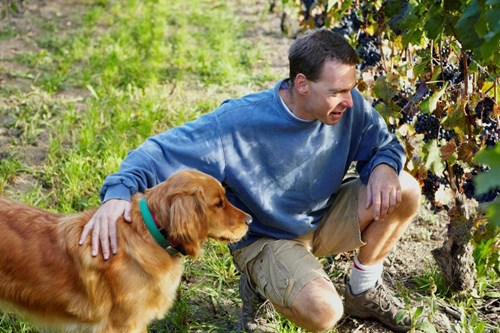 The Watsons settled on 45 acres outside Niagara-on-the-Lake and originally raised hogs. The stony soil, however, with its mix of clay and sand loam, was best suited to producing grapes of the highest quality. With his keen farmer's sense, John Watson planted his first Vidal vines in 1979. Ten years later, he was crowned the first Watson Grape King.
His son, Kevin, took over in 1995, doubling the farm's holdings and significantly expanding its operations. Today, Kevin and his wife, Cathy, produce 13 varieties from vines that include some of the province's earliest plantings of Sauvignon Blanc, Pinot Gris, and Cabernet Franc. The Cabernet Sauvignon and Merlot grapes that spring from Watson's soil are some of the most sought-after in the province. Large Niagara wineries, such as Jackson-Triggs and Inniskillin, purchase the majority of these prized grapes.
Watson also serves the expanding market of hobby winemakers. His grape juice, processed on-site, consistently sells out.
"It wasn't very fulfilling for my father and me to just grow a grape, put it in a truck and watch it go down the road," he says. "You really want to taste what you have done all year long. That's why we do it, that's what helps us create the best product possible and that's why I love this industry."
Today, the passion that stems from growing up under the tutelage of the Grape King, continues to influence Kevin to put all he has into strengthening the local wine industry. From his point of view, the continued growth of Watson's pairs quite nicely with expanded consumer and government education on the benefits of local wineries.