Henry Wegman 
In 1947, Henry Wegman's father planted a row and a half of Niagara grapes and another row and a half of Fredonia's.  It was the same year the Grape Growers' Marketing Board (now Grape Growers of Ontario) was formed and empowered to negotiate the terms and conditions of the sale of grapes for processing and export, ensuring growers a unified, minimum, price for grapes regardless of processor.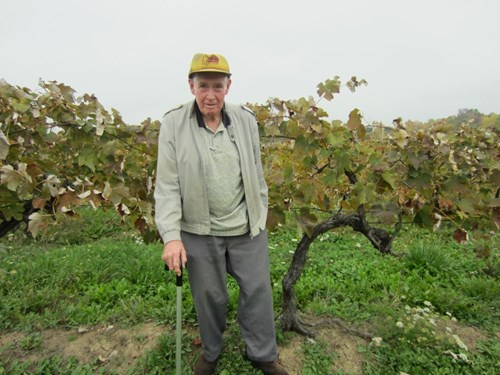 Pelham grape grower, Henry Wegman, witnessed a lot of changes in the industry over the last 75 years. He saw markets come and go, but the farm his father bought in 1943 is still going. Henry, who passed away in 2018, started working on the farm when he was 10 years old, he says, along with his three brothers.
While Henry and his brothers tended to the one-acre farm during the day, their father was working in town to provide a living for the family. Like his father, Henry says he too wanted to be a farmer, but had to work during the day to feed his family.
With six kids to support, he worked at John Deere in Welland until his retirement. "It was my desire to farm, but when you've got six kids, you've got to provide for them so I went to the factory."
When Henry's father planted those three rows of Niagara's and Fredonia's in 1947, he was among a small group of pioneers. Other pioneers of that era were Rodger Whitty, Ronald Moyer, Roy Johnson, Roy Masterson, and Bruce Lambert. 
But while the Wegman's were among the pioneer grape growers, they've never been able to grow grapes for wine because "the ground is too hard." Instead, they've concentrated on grapes for juice, fresh market and now home winemakers.
Over the years, Henry has lived through "markets disappearing and new ones coming  in." In the 1950s, he planted de Chaunac grapes but then that market disappeared and he planted Concords. The Concords are sold to National Grape in the U.S.  Later still, he pulled out the Fredonia's. "When we pulled out the Fredonia, we pulled out of the market."
There used to be a fair number of growers in Pelham, but many of them have disappeared over the years as well. Despite the challenges, Henry says he  enjoys farming. "I always had the desire to farm, to be out in the warm air. And it was good for a while," he says. "I like the fresh air. Get out there first thing in the morning. The birds are singing."
Other grape growers have witnessed many of the same changes Henry has. In the 1950s, the demand for dessert wines flattened  the same time  there was a growth in table wines. In the mid 1970s, consumer tastes swung from red wines to white wines, catching Ontario's grape growers unprepared, as they'd been concentrating on the red wine varieties. The 1980s saw an explosive growth in supplies of the grapes for table wines. While just 38% of winery buying was French hybrids and viniferas, by 1989, the supply had risen to 90%. Then came the Free Trade Agreement in the mid 1980s, which saw 8,578 acres of vineyards disappear within six years. More than 5 million vines were affected; 94% were varieties grown for wines. As well, Labruscas would no longer be used for table wines.
Next came the expansion of winery stores after the Ontario government approved both Sunday openings and credit card sales at Ontario Winery Retail stores. Almost overnight, the popularity of winery stores soared. In 1995, the average price per tonne broke through the $600 ceiling, at $614.  In 2007, Cadbury Schweppes Beverages, who owned the plant built by Ontario Grape Growers' Co-operative in 1948, closed. "Everything is changing all the time, just like everything else, I guess," Henry says.
The years of working full time while also running a farm took  a toll on Henry's health, he admits. "I'm paying for it now. You can't burn the candle at both ends so to speak."
But family history repeated itself. Like Henry's brothers, five of his six kids decided to pursue other lines, except for his son Stephen. Stephen took over running the farm in 1993. And like his father, he worked at John Deere during the day until it closed in 2009, his father says, before moving to a fencing company. He still works full time and tends to the now 10-acre farm.
Stephen has local buyers plus a roadside stand in addition to selling to home winemakers. And while Henry says he can't imagine his son being able to make a living strictly from farming—"you can't make a living unless you're big now-a-days"—he believes that as long as there are customers for their grapes, "I imagine he'll keep at it."
But one thing has remained constant: those Niagara's Stephen's grandfather planted  75 years ago.