The Bosc's
"To deliver in the bottle, you must first deliver in the vineyards," Chateau des Charmes would not be as successful without the years of experimenting to find what grows best where, and how to properly nurture grapevines within the sub-appellation sites of St. David's Bench and Four-Mile Creek.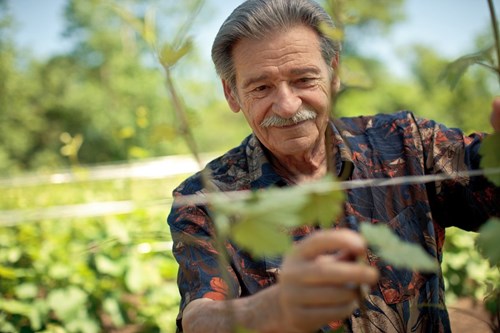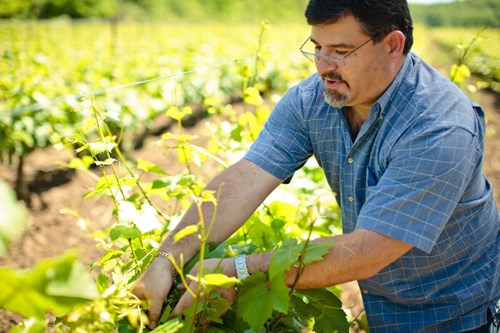 In 1964, Paul Bosc Sr. immigrated to Canada from France after completing his degree in Viticulture and Oenology from the University of Burgundy. Being a fifth-generation grape grower and wine maker, with experience working in French vineyards and wineries, he became the Chief Winemaker and Director of Research and Development at Chateau-Gai Wines in Niagara. This was an opportunity to use the practices he had learned in France on vineyards established in Ontario. He put an emphasis on proper winemaking by letting the land tell him what it needed. "Don't decide when you are going to spray the fields that year in February when they are still covered in snow, but rather wait until the time comes to make the decision whether to spray or not."
While working at Chateau-Gai in the early 1970's, Paul Sr. traveled to New York City for a high-profile wine competition with a wine made from vinifera grapes he had grown in Ontario. People were so blown away by the quality of this Ontario wine that it became a newsworthy story in 18 American states. It was hard to believe that such a fine wine had originated in Ontario.
With the realization that the lands in Ontario were quite similar to the northern regions in France, and that the wonderful summers allowed for excellent grape growing, Paul Sr. decided to start his own winery. This was an opportunity for Bosc to do things his way, and to experiment with what varietals would work best on the land that he owned.
Chateau des Charmes Winery began in 1976 on a 60-acre plot of land on Creek Road. Although this land was previously used for growing grapes, Paul Sr. wanted to start from scratch and develop a vineyard that was 100% Vinifera. He planted the new vineyards with only 800 vines per acre, much different than the current planting regime of 2000 vines per acre.
Paul Sr. and his wife, the only retail employee at the time, produced the first vintage of Château des Charmes in 1978. As Ontario wine became increasingly popular and positive reviews were received about Chateau des Charmes, the decision was made to build the winery of their dreams. Success ensued and in 1988, Paul Sr. was crowned Grape King to serve as ambassador for the industry at a time when there was a push to replace labrusca (juice grapes) and hybrid vines with traditional European varieties.
In 1994, Chateau des Charmes opened the doors to its current estate on York Road in Niagara-on-the-Lake. The Bosc's commitment to consistent excellence and quality shines though in all that they do, insisting that the DNA of the company is rooted in the agricultural practices of grape growing. As Paul Bosc Jr.  says, "First and foremost we are men and women of the land." With 14 different varieties grown in  four vineyards in  two distinct sub appellations, each with their own micro climate and conditions, the Bosc's are confident that their vineyard planting decisions will yield the best out of their land.
Nurturing the vines day after day, year after year, allows for Chateau des Charmes to create excellent wines, a testament to how vines that were planted in 1984 are still producing today. As Paul Jr. put it, "Only great grapes make great wines." 
With the assertion that wine is just the value-added extension to growing grapes, the Bosc's are reaching out to their customers allowing people to taste their wines, and opening the doors to their winery to show the quality present in Ontario and share their passion in the local industry. As Paul Jr. says, "People come here from Toronto which is just 90 minutes away, and they are blown away by the beauty of the properties and then the quality of the wine, they can't believe that this has all been established in one generation."
Chateau des Charmes is proud to produce only wines made from 100% Ontario grapes, as well as 100% estate grown and bottled from the sub-appellations of Four Mile Creek and St. David's Bench. The Grape Growers of Ontario congratulate Chateau des Charmes for winning White Wine of the Year at the 2014 Ontario Wine Awards, and wish them continued success in the future.