Len Crispino
Foreign Affair Winery is more than just a place to buy unique wine, it's a philosophy. Ontario Chamber of Commerce President and CEO Len Crispino, who co-owns Foreign Affair, says every business needs a philosophy, and the winery he owns with his wife, Marissa, "who is the true inspiration for the winery," and his brother-in-law Louis Cimicata, is no different.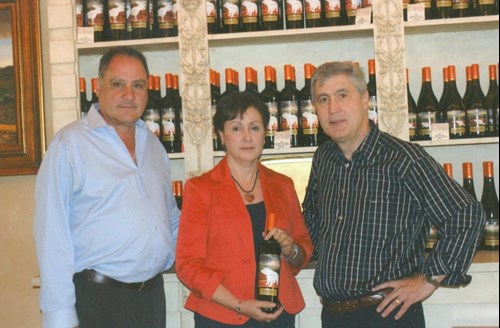 Summed up, "it's marrying the old world to Canada."  It's a philosophy consistent with the Amarone-style wine Foreign Affair produces. "It started with a whole love affair with a style of wine," he says. In the early 1990s when Crispino was Ontario's trade representative to Italy, he fell in love with this wine. His love of the wine sparked an idea—bringing the process to Canada. For the rest of the 1990s, it remained a dream until "We finally just decided to do it."
They went looking for land and with the help of a friend found 40-acres of prime farmland in Vineland with a southern facing vineyard. They started from scratch in 2001 and had their first production in 2004. Referred to as appassimento wine, the process involves hand-harvesting the grapes before they can break down, then placing them in ventilated plastic crates to dry.  The result is a wine with "incredible depth, richness and complexity," Len says.
"There was a lot of trial and error and we made a lot of mistakes (at the beginning)," he says, but like the Japanese, they chose to celebrate their mistakes. "We perfected our processes and learned a lot and we're proud of that." All their wines are made from 100 percent Ontario grapes, most of them from their own vineyard. "We believe strongly in getting the best grapes for the wine," he says.
Other wineries have started to experiment with the process, but Foreign Affair was the first to combine the old world style with Ontario grapes. Starting with vinifera grapes, they've gone further with white grapes with varieties like Sauvignon Blanc, Riesling, and Pinot Noir. "We didn't want to simply duplicate what others had done," he said. "Innovation is the key."
It's something the team at Foreign Affair strongly believes in. "If you're going to get into this industry, you better be doing something different," he says. "Innovation is how this industry is going to succeed."
Together with Ilya Senchuk, their wine maker, and Phil Clarke, from Glen Elgin Vineyard Management, their consultant viticulturalist, they've developed a unique, boutique winery that is family run. the winery is very much a reflection of their philosophy. They're very involved with their customers, treating them the way they would like to be treated, and allowing them to have an experiential approach to the winery with in-depth tours explaining the process and the philosophy.
Their label, also reflects their philosophy: an Italian countryside with iconic Canadian animals like a bear, moose, and flock of geese super imposed on it. Even the Tasting Room reflects the philosophy. It has a Mediterranean feel but all the furniture is locally made.
Foreign Affair is happy to concentrate on the smaller niche market. "We can afford to because we're not selling thousands and thousands of cases," he says.
A strong believer in the industry, both here in Niagara and in Canada, Len believes, "We need to feel pride in what we do and what we achieve." He also believes the industry needs to focus on competing internationally. When he was the province's trade  representative in Italy, he helped  introduce Ontario wine to that country, after a visit from Donald Ziraldo. This exposure helped Ontario wines win many international awards and increased sales.
"Our competitors are not our sister and brother wineries," he says. "We should be competing internationally instead of competing domestically."