Jim Morrison
Jim Morrison has been in the grape growing industry for more than 40 years. Reflecting on industry changes such as the conversion from growing juice grapes to wine grapes and the impact that technology has made on the industry as a whole; Jim Morrison of Morrison Farms recounts his experiences.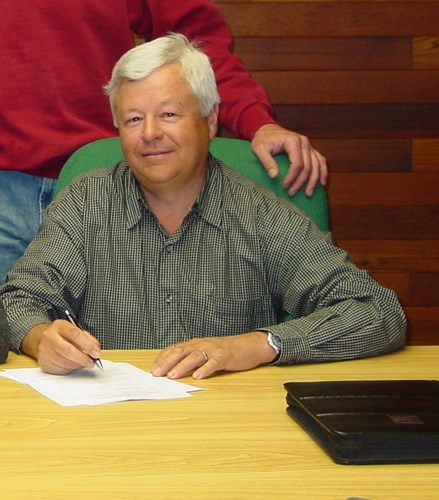 In the mid 1970's after returning from school, Jim started working on his father's mixed farm in Jordan.  Jim purchased the farm from his father and began planting labrusca (Concord and Niagara) grapes, which were in demand for making Welch's grape juice from the Cadbury Schweppes plant located in St. Catharines.  Looking back, Jim remembers that besides growing grapes for different purposes, there were different technologies as well. "Spraying for example; there used to be a very broad spray that would cover many diseases, but with updates in technology I can now spray for a specific disease allowing for integrated pest management," says Jim.
Taking advantage of the federal government "Grape Acreage Reduction Program" in the 1980's, Morrison Farms made the change from growing juice grapes, to vinifera varietals.  Currently, the farm is planted with 50% hybrid grapes and 50% vinifera grapes which are sold to Constellation Brand.  
A monumental change in the industry that Jim recounts was the closing of the Cadbury Schweppes plant in 2007.  As the last juice grape processor in Ontario, the closure dramatically reduced the demand for Concord and Niagara grapes, and was the next major push for growers to convert their juice grape vineyards to wine grapes. As Jim says, "the biggest challenge when growing grapes, after the weather, is dealing with the markets that you sell to."
Sitting on top of the Niagara Escarpment, in a location Jim refers to as the "Upper Bench," flavour and quality come first when growing grapes.  With plantings in clay-loam soil, Jim has found that Riesling and Chardonnay grapes grow best in his vineyards. This is all dependent on nature as "the perfect weather for growing grapes is a year with consistent temperatures and adequate rain, with winters not going below negative 20 and summers with plenty of sun and heat," says Jim.  He has come to expect harsher winters every few years and uses modern technologies such as wind machines to protect his crop.
Along with tending to his vineyards; yes, Jim personally is on the tractors and replanting vines, Jim is also a member of the Grape Growers of Ontario (GGO) Board of Directors. Serving first as a member of the Growers' Committee, Jim became a director in 2007. This position gives him a front row seat to the politics and government regulations surrounding grape growing. He enjoys the opportunity to interact and meet other growers including his son to whom he is hoping to pass on the family business one day.
Jim's wise words after being in the industry for many years is to do your research before you put money into your grape growing venture, "make sure you know what varietals you want to grow and what works best, the weather, the soil and the airflow of the area; make sure to know them well."