Wertsch Brothers
Yannick and Greg Wertsch, the co-owners of Between the Lines Winery and Wertsch Family Vineyards, come by their grape growing roots honestly. "We didn't have much choice," Greg says. "Our path was kind of destined by our parents."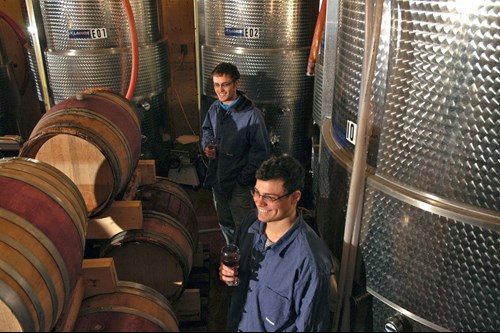 The brother duo started working on the vineyards of their grandfather, and then in earnest in 1998 when their parents bought the 45-acre estate they now operate between Lines 5 and 6 on Four Mile Creek Road in Niagara-on-the-Lake. Yannick was awarded a Top 30 Under 30 award from the Ontario Hostelry Institute for his contribution to winemaking. Greg looks after the vineyard and the business side of their enterprise.
But Greg admits "it's just kind of ironic" the two are still in the business. Yannick "used to hate working out in the vineyards" as a teen. Now, after two years studying Winery and Viticulture at Niagara College, followed by another two years studying in Germany, Yannick is now head winemaker. Greg went off to study in Germany, intending on getting into another line of work, but found he didn't like it and "ended up coming back to the vineyards." He too got his post-secondary in Germany, studying International Wine Economics. 
In 2009, the brothers converted an old barn on the estate into a winery and with help from an investor, purchased the equipment needed to get them started. At the time, Yannick was still in Germany finishing his studies so the hard work was left to Greg. 
Since then, they've had success with Pinot Noir, Cabernet Franc, Merlot, Riesling, Gewurztraminer and Limberger, "the flag ship at our winery." The first time they made Limberger, Greg says they thought they'd sell one case a week but it ended up selling a lot faster than expected. 
Greg says what makes their vineyard "fantastic" for growing a variety of grapes is that the changing soils run right along the rows. They've also made a conscious decision not to try and fight the weather. "We're trying to use the climate here instead of trying to fight it."
And while we've all heard of sibling rivalry, Greg and Yannick have managed to avoid it. "It's kind of great because we get to do what we want," Greg says. "We work really well together. If one of us gets sick, the other knows what to do." The fact they've each got their own niche helps as well, he adds. "I guess that's what saves us. If both of us had wanted to become winemakers, we'd probably be clashing all the time."
So what advice would they have for new growers? "My best advice would be to make a great choice on the varieties you plan because you're going to have them for 30 years. Don't just pick your varieties based on the Grape Growers' prices or current fads. And don't be shy about getting help." He says a good education is essential as is hard work. "A lot of people think grape growing is easy. You just stick the vine in the ground and they'll come up. It's not that easy."