Sally and Rob Peck
Sally and Rob Peck have been owners and operators of Sugarbush Vineyards, nestled in beautiful Prince Edward County, since 2002. Their decision to become grape growers stems back to a visit to British Columbia's wine country, where touring small wineries sparked a passion in them that could not be ignored. In 2000, they decided that if they didn't jump on the opportunity then, they never would. After looking at several parcels of land, they decided on a 50-acre property that was planted to corn and soybeans. With an excellent location five minutes from the water, good drainage and suitable soil, Sally and Rob planted their first grapes in 2002.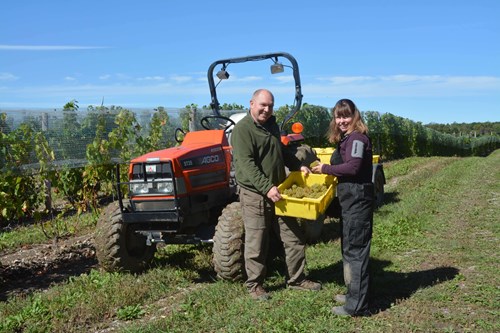 While Rob grew up in Prince Edward County on his family's apple farm, Sally did not have any previous agricultural knowledge, but she jumped in with both feet. Together they decided the best grapes to grow  were ones that they enjoy to drink themselves, while taking into consideration the soils and climate. With this goal in mind, they settled on growing only traditional European vinifera grape varieties, with Chardonnay and Cabernet Franc being their core varietals. Being located in a part of Ontario that experiences colder winters, Rob and Sally have learned to bury 2-4 canes per plant to ensure winter bud survival.
Wanting to maintain their hands-on approach to all aspects of the vineyard and winery business, the Peck's have stayed small, focusing on estate-grown premium wines. A self-proclaimed Garagiste (GA-razh-EEST) winery, that is, a passionate winemaker who creates limited production of premium wine in a garage-sized winery, Sally and Rob transform their home-grown grapes into small quantities of hand-crafted premium-quality wines sourced entirely from their own vineyards.
Their wines are mostly available at their own Winery store, local Prince Edward County restaurants, and limited quantities through LCBO stores in Eastern Ontario. You might also catch Sally and Rob at local farmers markets showcasing their premium wines. In addition to running a vineyard and winery full-time, they are also raising three children, and Rob works as an engineer.
Sally and Rob love their hectic life in Prince Edward County and look forward to the future. They believe "the County" has provided them with immense opportunity with its strong agriculture base, culture and environment. They see the region growing into a top tourism destination and are thrilled to be an integral part of it.