Warren Saunders
1921-2023
Beamsville grape grower Warren Saunders, who sadly passed away recently at the age or 102, never dreamed of doing anything else than growing grapes. And the best grapes at that!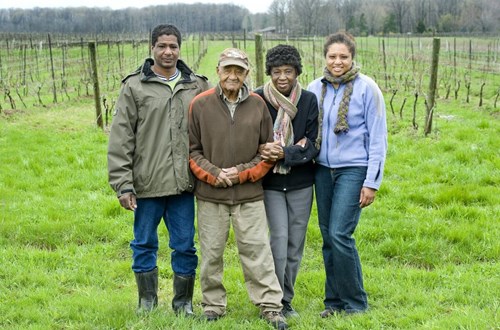 Warren, and now his son Leslie and daughter Ann-Marie, have been growing grapes since the 1960s and saw technology transform the farming industry. He has also witnessed changes toward higher-quality wines and standards that help him compete more globally. Regardless of these changes, Warren still preferred the good old ways and techniques like hand-picking.
Warren's love for viticulture began at age 12 when he would pick raspberries with his parents in Hamilton. In his late teens, he worked at a local farm when they needed help, and by the time he was 21, he was working for Stelco. That job lasted 42 years, allowing Warren and his wife Ivy to buy some land in 1965 near Beamsville, in the Niagara Peninsula. Shortly after purchasing the farm, Warren and Ivy started their own family and were growing both fruit trees and grapes, eventually switching primarily to grapes and planting French hybrids and vinifera. Today, as a family-run certified organic vineyard, raise Riesling, Chardonnay, Cabernet Franc, Pinot Noir and Merlot for small-batch, premium quality wines.
Warren learned the most by spending time at the Vineland Research Station, talking to other farmers. He says the generosity of fellow farmers in sharing information is something you can always count on. He believes this life is not for everyone. "People romanticize owning a vineyard, but it's also really hard work," he said.
Warren attributes his longevity to a healthy diet and staying active. Working in the vineyard not only kept him engaged and happy, but it's also his secret to living to 102 years of age!