Murray and Ann Wilson
Oxley Estate Winery is nestled on the north shore of Lake Erie, on the idyllic Country Rd 50 near Harrow, Ontario in the heart of the Lake Erie North Shore wine region. When Ann and Murray Wilson purchased their farm, it was planted to melons, eggplants, peppers, tomato, and cucumber crops. Both having grown up on farms – Murray on a family farm in Chatham and Ann on a cash crop farm in Sturgis, Michigan – buying a farm was a natural fit and an idea they dreamed about and researched for several years before purchasing their 17.8 acre property in 2010. Two years later, they purchased another 20 acres with a plan to expand their vineyards.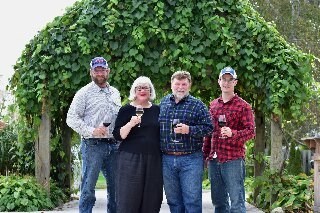 When Ann and Murray first planted several hybrid and vinifera grape varieties, they found the terroir to be ideal for grape growing. In addition to more traditional grapes such as Riesling, Chardonnay, Merlot, and Pinot Noir, the Wilsons are proudly growing Regent (a sustainable German variety) as well as three sustainable varieties of grapes (HG-01, HG-03, and HG-04) developed for Colchester/Essex County. Their farm, perched on high sunny bluffs above Lake Erie, experiences sunny days, cool nights, breezes, and well-drained Fox sandy loam soil. They farm using eco-friendly farming practices to encourage a healthy and sustainable environment. Despite some bitterly cold winters, their vines are healthy and producing some of the finest grapes in the region.
If the vineyards weren't enough to keep them busy, the Wilson's Oxley Estate Winery retail store and event centre is located in the charming renovated 1920 barn on the home farm. The two small lofts were torn out and replaced by a larger space, "The Loft", for events and meetings. They enclosed the open lean-to (where they used to park the tractor and wagon) to create restrooms and a storage closet, and added a kitchen on the west and small entry on the east. The Barn opens to the Wine Garden with its wood-burning fireplace. A delightful, comfortable and elegant setting for events (meetings or weddings) or a simple wine tasting.
Ann manages Oxley Estate Winery and its popular restaurant, and along with his duties on the farm, Murray is also C.E.O of his business Black Stone Sports and is president of the Jack Miner Foundations in both Canada and the United States. A true family affair, the younger Wilsons (there are 6 of them) round out the vineyard and winery team. Meeting the Wilsons, it's evident they enjoy what they are doing in the warm friendly atmosphere of "The Barn at Oxley."